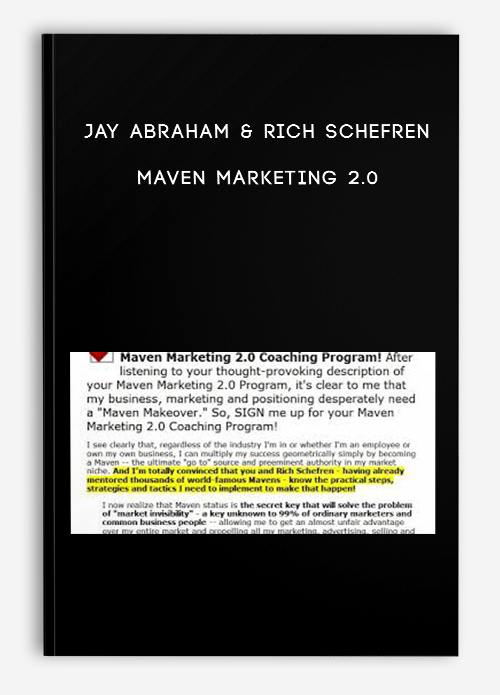 I see clearly that, regardless of the industry I'm in or whether I'm an employee or own my own business, I can multiply my success geometrically simply by becoming a Maven — the ultimate "go to" source and preeminent authority in my market niche. And I'm totally convinced that you and Rich Schefren – having already mentored thousands of world-famous Mavens – know the practical steps, strategies and tactics I need to implement to make that happen!
I now realize that Maven status is the secret key that will solve the problem of "market invisibility" – a key unknown to 99% of ordinary marketers and common business people — allowing me to get an almost unfair advantage over my entire market and propelling all my marketing, advertising, selling and promotional results into the stratosphere!
Plus, I understand I can become a Maven "my way" — by choosing the specific, unique character roles (that express my own personality)… almost immediately transforming the impact, effectiveness and profitability of everything I do.
I want the increased business, respect, status,
success and wealth that only being a Maven brings!
I also understand that once I become THE Maven of my market, everything changes for me. Suddenly, my emails will get enthusiastically read and responded to… my website traffic will skyrocket… and visitors will stay longer, buy more and revisit/respond/repurchase many times, again and again.
I also see that anytime I come out with any information-based, promotional activities, my market will eagerly embrace and respond to them — WHEN I follow the PROVEN marketing system you and Rich will reveal to me in your Maven Marketing 2.0 Coaching Program.
Finally, I also realize that it really doesn't matter whether I sell products, services, professional services or information. It doesn't really matter whether I'm selling something online, offline – or both. It doesn't matter whether I sell mainly using pay-per-click, blogs, SEO, email blasts, joint ventures, affiliates, a sales force, direct mailing, or trade shows. That's because your Maven Marketing 2.0 Coaching Program will transform me and my business, product or service into the supreme, DOMINANT force in my field… regardless of my marketing vehicles.
This is a Once-In-A-Lifetime opportunity to be trained by the founders of the Maven Marketing System at bargain basement prices!
I realize that, up until now, your Maven Marketing System has been revealed solely to your private clients – who pay between $2,000 and $5,000 per HOUR to learn your secrets.
Plus, with your absolute performance guarantee –
your unconditional PROMISE that I can become a
Maven in 6 to 12 months – I have NOTHING to lose!
That's obviously a big promise on your part.
And it's also a huge expectation of mine. BUT since you're GUARANTEEING, promising and assuring me that you can AND WILL deliver on all you've committed to do for me – and guarantee me that I can become a Maven within 6 to 12 months… and I have a full 30 days to experience your Maven Marketing 2.0 Program for myself, and request my money back if I'm not THRILLED – I accept!
Candidly, no one else out there would dare take on THIS level of performance commitment.
But, based on all I know and have learned about you and Rich, I'm willing to take the chance that you really CAN transform me into something far more successful and make all the marketing I ever do… from now on… produce the kind of high impact and massive profitability I've always wanted.
Also important, you truly convinced me that your system really does (and WILL) work wonders for someone in my business situation. In other words, you have the ability, training methods, strategies, techniques and proven experience to really make great things happen for me and my type of business.
Preview Information: 
Original Page
Archive Page
Jay Abraham & Rich Schefren Maven Marketing 2.0 Available now at Vincourse.com
Jay Abraham & Rich Schefren Maven Marketing 2.0 Download, Jay Abraham & Rich Schefren Maven Marketing 2.0 Available Now, Jay Abraham & Rich Schefren Maven Marketing 2.0 Order, Jay Abraham & Rich Schefren Maven Marketing 2.0 Reviews, Jay Abraham & Rich Schefren Maven Marketing 2.0 Torrent, Jay Abraham & Rich Schefren Maven Marketing 2.0 Course Download, Jay Abraham & Rich Schefren Maven Marketing 2.0 ClubBuy, Jay Abraham & Rich Schefren Maven Marketing 2.0 Groupbuy